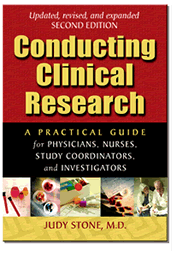 Buy the Book
New 2nd edition: Revised, expanded, completely updated
Click here to check out the Table of Contents
Buy a signed copy direct from the author using your credit card through PayPal (North America only)
In the U.S. $79.95
plus shipping and handling: $12 for the first book, $7 each for additional books (book weighs over 2 lbs).
Please add 6 percent sales tax ($4.80) for books delivered to a Maryland address.
Or buy the book (unsigned) on Amazon.com
(US & International)
For multiple copy or case rate pricing, please contact us at info@conductingclinicalresearch.com and indicate the number of copies needed.
Professors: Request a review copy for your courses.
Conducting Clinical Research: A Practical Guide for Physicians, Nurses, Study Coordinators, and Investigators
ISBN 978-0-9749178-1-8