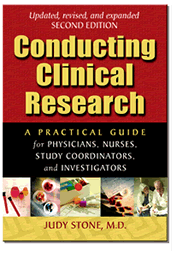 News and Tips
Dr. Stone is now a guest blogger for Scientific American. You can find her column at "Molecules to Medicine."
Patients Needed:
What percentage of cancer patients participate in clinical trials?
A. 5 percent
B. 20 percent
C. 50 percent
Correct answer: A
A recent report highlights the need to recruit more cancer patients into trials.
Dr. Jennifer Tam-McDevitt calculated that almost 124,000 patients were needed just for the 2005 breast cancer trials--58.7 percent of all newly diagnosed breast cancer patients. She reported these disturbing figures at the American Society of Clinical Oncology (ASCO) annual meeting in June.
Yet typically, only 5-10 percent of cancer patients participate in clinical trials. Other researchers put the figure at 4-6 percent.
Similarly, Tam-McDevitt found that fully 20 percent of newly diagnosed patients would have to participate in trials for prostate cancer to meet enrollment goals and 15 percent of lung cancer patients.
These figures are probably a serious underestimate, as they do not account for the large numbers of patients who would be excluded from participation by the rigorous exclusion criteria of trials.
"No one has really looked at the number of patients needed relative to the number of patients we have," Tam-McDevitt said. "What we're trying to convey is 58.7 percent is a far cry from the 10 percent who were participating in trials."
The conclusion is a proposal that study volunteers be rationed to only the most important clinical trials.

Clinical trials traditionally have set statistical endpoints to determine a drug's success or failure, defined before the trial begins. Large numbers of volunteers are needed, treatment decisions are fixed in advance and results are generalized to the entire population. No changes can be made during the course of the trial. It may be difficult or impossible later to analyze small subgroups' responses.
The FDA's Scott Gottleib describes the new "adaptive clinical trial," where "patient outcomes can be used as they become available to adjust the allocation of future patients or some other aspect of the study design. This allows researchers to improve expected patient outcomes during the experiment, while still being able to reach good statistical decisions in a timely fashion." Interim analyses would allow for fewer patients to be needed for trials and, hopefully, shorten the time needed for drug development.
With trials that run over years, standards of care and new ancillary treatments often occur during the course of the trial, muddying the results. Interim assessments of efficacy might help prevent unnecessarily continuing the trials. (Such assessments are sometimes done now by Data Safety Monitoring Boards, which do interim analyses, most often for safety considerations but sometimes also for "futility.")
Not all share the enthusiasm for adaptive trials. Changing requirements in midstudy might lead to uninterpretable data or introduce crippling bias.
The FDA is scheduled to provide guidance on adaptive trials in November. Stay tuned for more on this interesting proposal.