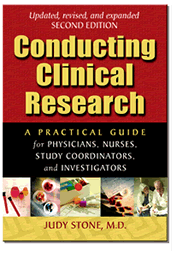 Other Interesting Links/News
Following are recommendations and links to a variety of topics and sites that I have found particularly interesting.
Organizations:
I had the pleasure of attending the NTD conference at George Washington University in Oct, 2006. It was a transformative experience. I highly recommend this organization and the resources available on their site. With their permission, I have also incorporated some of their material in my talks related to the ethics of drug development.



Ethics and Drug Development

by Judy Stone is licensed under a Creative Commons Attribution-Noncommercial-Share Alike 3.0 United States License.
Permissions beyond the scope of this license may be available from info@conductingclinicalresearch.com.
This is a wonderful program designed to teach high schoolers about issues related to global poverty. Through the "Global Citizens Corps," students are given resources and skills to return to their schools and communities and educate others. Very well organized group with great resources accessible for the students to share with others to raise awareness and action about hunger, access to clean water, access to education, poverty, AIDS, and climate change.
Films:
The Constant Gardener is an award winning drama about an idealistic young woman's murder and the ethics of pharmaceutical research in Africa. Both beautiful and disturbing…
Websites:
Dr. Martin Donohoe has an outstanding site with valuable educational resources—articles, slideshows, and syllabi on a variety of topics related to this broad topic, ranging from Beauty to Food Safety, Tobacco, Human Subject Experimentation, to Women's Health.