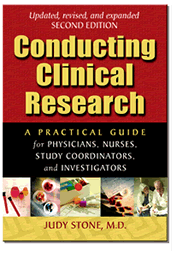 Recommended Reading
Websites | Books | Journals & Articles
AccessCR is an Australian company with expertise in clinical research. Janelle Bowden, PhD, AccessCR's Managing Director, has a wealth of experience in clinical research and a passion for making research accessible to and more accepted by the public. She also aims to improve communication and partnership between all involved in the clinical research process, from patient to researcher to government to industry. Her website and newsletter reflect that and are a terrific source of frequently updated information.
Extensive resources for continuing education and professional development.
A for-profit company that matches investigators with pharmaceutical companies. The site includes extensive sections on various topics regarding clinical research.
The Clinical Trials Networks Best Practices (CTNBP) project, funded primarily by Duke Clinical Research Institute, is maintained by 12 study coordinators representing 10 clinical sites across the U.S. CTNBP has an extensive collection of valuable resources, including document templates and a variety of online training modules, with many offering free CEUs. More than 90% of the Web site is open to the public without requiring a user account or password. Highly recommended.
Information and regulations.
"'Bad Bugs, No Drugs:' Defining the Antimicrobial Availability Problem" 2003, a key article explaining the crisis in antibiotic drug development, the implications for public health and proposed solutions from experts in infectious diseases.
One of my favorite resources, this site provides extensive online resources and free, full-text copies of its library, with books and reports written by experts in their fields. Extensive information about ethics and research protection.
The primary government biomedical research agency. This excellent site provides education about ethics, patient protections, regulations and training, among other things.
PRIM&R is an organization focused on setting high ethical standards for conducting research. They are a very active group with a variety of educational programs to appeal to a broad range of experience levels. They also provide professional certification and public policy initiatives.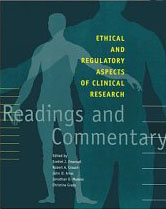 Ethical and Regulatory Aspects of Clinical Research: Readings and Commentary (Paperback)
by Ezekiel J. Emanuel (Editor), Robert A. Crouch (Editor), John D. Arras (Editor), Jonathan D. Moreno (Editor), Christine Grady (Editor)
A great overview of ethics, with classic cases reviewed for historical perspective, followed by sections including clinical trial design, informed consent, vulnerable populations, and scientific misconduct. If you wanted one text on research ethics, this would be it.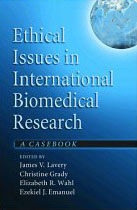 Ethical Issues in International Biomedical Research
By James V. Lavery (Editor), Christine Grady (Editor), Elizabeth R. Wahl (Editor), Ezekiel J. Emanuel (Editor)
Interesting case studies with commentary on both sides of the debate. The vignettes are more contemporary than in Emanuel et al's book, above, and make an excellent sequel to that text.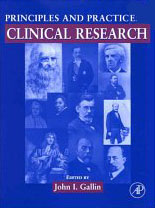 Principles and Practice of Clinical Research (Principles & Practice of Clinical Research) (Hardcover)
by John I. Gallin (Editor)
Gallin's classic book provides an excellent, basic overview of clinical research. While some have complained that it is too simplistic, I found it provided a great overview, and appreciated that it was very readable and included topics such as biostatistics and technology transfer. The chapter by Stephen Straus on Unanticipated Risk was particularly enlightening and poignant, and deserves wide recognition.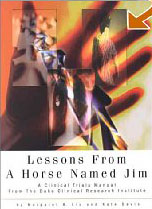 Lessons from a Horse Named Jim: A Clinical Trials Manual from the Duke Clinical Research Institute (Paperback)
by Margaret B. Liu (Author), Kate Davis (Author), Margaret Liu (Author)
A very readable and often humorous overview of clinical trials.
I'm glad I didn't know about this book when I wrote mine—I might have been dissuaded from undertaking my gargantuan project!
This text is being revised; look for it within the next year.
The Body Hunters
By Sonia Shah
An "expose" of the pharmaceutical industry, written in a provocative tone. While Shah's book makes for an interesting read, and I agree with some of what she says, some of her arguments are too simplistic. Perhaps I'm still too naïve about the drug biz, but I don't believe that all the overseas trials are done to exploit locals or unethically. While I am cynical, I also understand some of the logistical difficulties of conducting research. Shah's book is useful in a classroom for being thought provoking, but is not as well-balanced as I would have hoped.
A monthly journal providing a wealth of information of use to research clinicians. Subscription is free.

Wenzel, Richard P., "The Antibiotic Pipeline--Challenges, Costs, and Values," New England Journal of Medicine 351 (2004): 523-26

A thoughtful commentary on the economics of drug development and factors leading to the scarcity of new antibiotics. Written by an expert in infection control and resistance to antibiotics.